Underground Drainage Sewerage Pipes (As per IS:15328)

THE SYSTEM
Super underground drainage and sewerage system has been designed with a view to modern man's inclination towards health, hygiene and his aversion to filth and pollutants. Due to unpleasant nature of human waste, a drainage system should be "out of sight and out of mind". Most of the drainage systems are actually hidden from sight. It is hence important that it should be of superior quality and should be able to function year after year without leakage or defects. It becomes unpleasant and expensive to address such problem that arises in conventional underground products unexpectedly. Such problems may happen due to poor product quality or due to faulty construction and outdated intended to carry soil and waste from S.W.R. drainage system to roadside sewers or drains and from there to treatment plant or disposal point.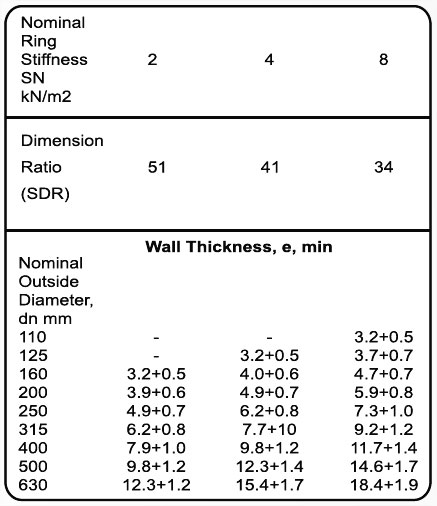 This system is advantageous over traditional drainage products for all drainage and sewerage application and highly recommended for buildings where hygiene is prerequisite such as hospital, hotels, etc. The system is considered to be the most ideal for applications, where horizontal lines run beneath the floor other than ground levels in hanging form for ex. Basement.
They system can also be used for rainwater collection and disposal, including rainwater harvesting, In short, the system provides complete solution for underground drainage and sewerage application. The system is completely watertight and hence is free from ingress and seepage of water and thus considered to be the most hygienic. Unlike conventional drainage products there is no fear of pollution of underground water, soil or ill effects on building foundations. In this fast age, this product is blessing to housing and construction industry as tremendous saving in time and labor is possible. This is because installation of this system is quite simple and fast. The choice of the raw material, the structural accuracy and the strict quality control imparts high degree of reliability.
These pipes are made as per IS 15328 standard and are marked with ISIS mark. The pipes are available in different stiffness classes as given in the table. The pipes are available in 3m and 6m lengths. The pipes upto 250mm size are available with plain and socketed end and whereas 315 and 400mm size pipes are supplied only with plain end and solvent weld type coupler. Separate coupler with unique design of click ring and rubber-sealing rings are available up to 250mm sizes which makes the system absolutely watertight.
FEATURES & BENEFITS
Great Flexibility – Due to availability of readymade inspection chambers and manhole, long lengths of lighter weight pipes and different component, installation of this system is very convenient and fast.
Perfect hydraulic properties – Mirror smooth inside surface of the pipes and streamline design of the chambers, greatly reduce the possibility of blockages and maximize flow characteristics. As a result, carrying capacity of these pipes can be increased by 40% over concrete pipes.
Great strength – System is sufficiently durable to meet site-loading requirements.
Watertight System – Pipe and riser/shaft connection with the chamber base is absolutely watertight and unique design of pipe joints with click ring and sealing ring makes the system completely leak proof.
Hygienic and safe – Trouble free performance of the joints without blockage and leakage ensures high standards of hygiene.
Minimum excavation cost – Because of simple jointing technique, trench width can be kept minimum and smooth bore of the pipe allows high flow rates at relatively slot gradients.
Different flow profile designs – inspection chambers and manholes are available in different flow, profiles/configurations of inlet(s) and outlet in different sizes to suit the site requirements. Unwanted inlets if any can be closed with the help of blanking plugs.
Minimal maintenance – Optimum functional qualities and good hydraulic properties play an important part in reducing the need for jetting and other forms of maintenance and therefore operational costs are considerably reduced.
Longer life and overall economy – Being free from problems like corrosion and susceptibility to chemical reactions and as designed to carry soil and traffic loads system is sufficiently durable and offers long and trouble free service life.